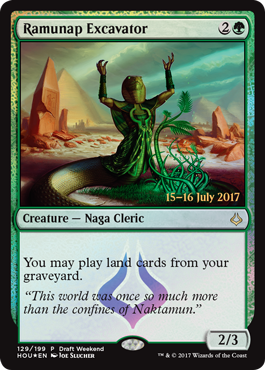 Starting July 14 and continuing all weekend, you'll be able to pick up and play with new Hour of Devastation cards. For playing in the event, you will receive an alternate-art promo card (while supplies last).
Come on out for some FRIDAY NIGHT MAGIC!
Registration: 6:00pm
Deck Construction: 6:30pm
What is Draft Weekend?
Set Name: Hour of Devastation
Block: Set 2 of 2 in the Amonkhet Block
Number of Cards: 199
Prerelease Events: July 8-9, 2017
Release Date: July 14, 2017
Draft Weekend: July 15-16, 2017
Standard Showdown Begins: July 22, 2017
Game Day Weekend: August 5-6, 2017
Magic Online Launch: July 10, 2017
On Sale in Magic Online: July 14, 2017
Pro Tour Date: July 28-30, 2017
Official Three-Letter Code: HOU
Twitter Hashtag: #MTGHOU