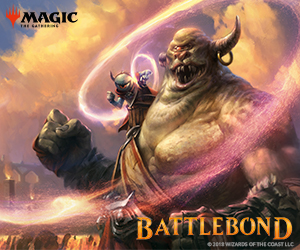 Welcome to Battlebond, where competitors battle in pairs. Recruit a trusted partner and fight shoulder-to-shoulder, hand-in-hand, or back-to-back for glory and the roar of the crowd!
Forge an unbreakable bond with your combat companion and claim your place in the pantheon of champions!
PLAY TO YOUR STRENGTHS
Sometimes, teamwork is about sneaking in to deliver a deadly blow while your friend distracts all the enemies.
PROTECT YOUR FRIENDS
Sometimes, teamwork is about charging screaming into battle, so all the enemies focus on you while your friend stabs them in the back.
ANYONE CAN BE A CHAMPION
In Valor's Reach, victory is more important than little things like "good" and "evil." The greatest champions aren't afraid to use every weapon at their disposal.
magic.wizards.com/en/products/Battlebond
magic.wizards.com/en/articles/archive/feature/world-battlebond-2018-06-06