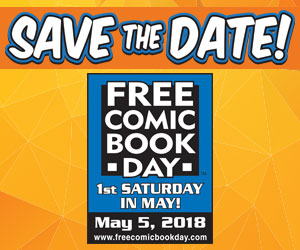 Saturday May 5th is Free Comic Book Day!
Visit one of our 4 locations and choose one out of dozens of comics for free.
Stay tuned for updates on special guests and fun events!
BURLINGTON (2388 Fairview St)
HAMILTON STONEY CREEK (Eastgate Square – 75 Centennial Pkwy N)
HAMILTON WESTDALE (844 King St West)
OAKVILLE  (Oakville Place Mall –  240 Leighland Ave)
Bring a non-perishable food item and get an additional free comic for each item donated!  Please consider donating the following items: Canned Soup & Stew, Canned Meat/Fish, Pancake Mix, Cereal, Pork & Beans, Dry Beans, Canned Beans & Vegetables, Pasta/Sauce/Canned Pasta, Syrup & Jam, Canned Fruit, Macaroni & Cheese, Peanut Butter, Healthy Snacks, Instant Oatmeal, Coffee/Tea/Juice, Peanut Butter, Diapers, Pull-Ups, Hygiene Products, Powdered Milk, Baby Food, Baby Formula. PLEASE CHECK ALL BEST BEFORE DATES! Food donations will be made to food banks in Hamilton, Burlington and Oakville.