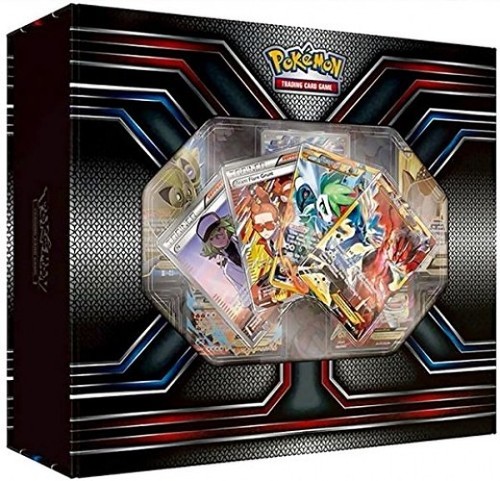 WAS $149.99,  NOW $124.99!
The Pokémon TCG: Premium Trainer's XY Collection is one of the most breathtaking Pokémon TCG boxes ever assembled. The centerpiece of this awesome collection is full-art foil promo cards of some of the most popular Pokémon TCG cards in recent memory, including Shaymin-EX, Yveltal-EX, and Jirachi. This is the first time many of these cards will be given the full-art treatment. These full-art Pokémon and Trainer cards are not only beautiful collector's items—they're also powerful, tournament-ready cards that could help your next big match.
The promo cards are just the beginning for this impressive set. The Pokémon TCG: Premium Trainer's XY Collection also contains an amazing assembly of accessories, including a metal Pikachu coin, two sets of card sleeves featuring Xerneas and Yveltal, two sets of tournament-ready dice, and more. Plus, you'll get two Pokémon TCG booster packs from the XY Series. Whether you're a collector or top-level player, the Premium Trainer's XY Collection is an unbelievable upgrade to anyone's Pokémon TCG Collection.
The Pokémon TCG: Premium Trainer's XY Collection includes:
Full-art foil promo cards featuring Shaymin-EX and Yveltal-EX
12 more full-art foil promo cards including Aegislash-EX, Jirachi, N, and more!
2 Pokémon TCG booster packs from the XY Series
A metal coin featuring a Pikachu head and tail
2 sets of 65 card sleeves featuring Xerneas and Yveltal
A double deck box featuring Xerneas and Yveltal
2 sets of tournament-ready dice
A code card for the Pokémon Trading Card Game Online
A large, kickstand-style box to hold it all